"It is what you read when you don't have to that determines
what you will be when you can't help it." —Osacr Wilde
From the "Must Read" section on the blog, you will see that I gravitate to books written by women. This is purposeful and not-so-much. Purposeful, because female writers have struggled historically, unable to even write under their own names. I think of Jane Austen and the difficulty she had "living by her pen" as she said it. She was not respected as male writers were, hardly eked out a living. Yes, I want to support female writers as I can. It is not-so-much purposeful because my books just appear, chosen for me in serendipitous ways.
I could fill pages with reviews of books I love and will never post a review of a book I have not read. I am usually listening to one audiobook and have two more books on my coffee table that I am reading. In this period of COVID isolation, I am overwhelmed with books I want to read or read again. I am so grateful to writers for their willingness to put their work out in the world so I can hear their voices, their stories. It takes uncommon courage and unique vulnerability to write a book and then struggle to get it published.  It requires tremendous effort, skill, and persistence.
Snow Flower and the Secret Fan, Lisa See 
Most of you know I have written repeatedly about Chinese history and culture; I am powerfully drawn to it.  So, it was natural for me to gravitate to the writing of Lisa See, who writes historical fiction about the lives of women in China. In this one, Lilly and her laotong, Snow Flower, her sworn-sister, were examples of women who wrote in a secret nineteenth-century language, Nu Shu, created by Chinese women who were subjugated by men for financial gain. This is the story of deep, enduring friendship, from having their feet bound at six years through old age. The author's use of cultural and social description is always so powerful that I become a sworn sister each time I open her books. (Historical fiction)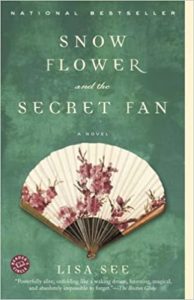 The Nightingale, Kristin Hannah 
Not that many years ago, I read my first book about the effect of WWII on the European population. Raised by an American WWII veteran, I understood how our citizens were impacted but had no realistic notion of what our friends across the big pond suffered. I read this book in record time; just drank it in without stopping, so eye-opening was its message. Years later, I think of it and those French women who risked everything, sacrificed everything, to aid American and English troops and saved the lives of countless Jewish children. This is the story of courageous sisters surviving in wartime under horrendous circumstances, and of the resilient female spirit. You won't put this one down until you finish. Then you will cry. (Historical fiction, inspired by the life of a Belgian woman, Andree de Jongh)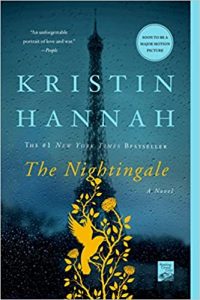 Educated, Tara Westover 
This memoir impacted me in a way no other book has. I find the story of her life incredulous, so raucous, mind-twisting, conflicted and angering, yet inspiring and courageous. It is difficult even for me to speak of it. She recalls each incident with clarity and vivid description. This is a woman of exceptional intelligence and courage; in no other way could she have accomplished what she has, in no other way could she have survived.
Although my parents were loving and protecting of me, I find an odd kinship with Tara Westover.  Children love their parents, their siblings, yearn for their approval and validation, and cling to them from the very core of their being no matter what happens within the family.  Read this book, just read it. (Autobiography)
Outlander, Diana Gabaldon
Outlander is part of a soon to be nine-book series by the same name. My friend Cheryl sent the original volume to me and insisted that I read it. So grateful she did. Besides, she knows way too much about me to chance her retaliation should I be non-compliant! These books of historical fiction have given me more delight than anything I've read. They also schooled me about the lives of my ancestors in England, Scotland, and here in the colonies. Spanning the entire series is an epic love story. These page-turners include romance, familial constancy, high adventure, eighteenth-century medicine, time travel, and spirituality.
The author was a professor of environmental studies at Arizona State University and has three sons. I have no idea how she found time to teach, care for her family, and write these big nine-hundred-page books that required extensive research. This series is rich in Scottish, English, and early American history; I learned so much, and it was wild fun!! She wrote the first one as an experiment to see if she could write a novel. . .Lordy, can she ever. (Historical fiction)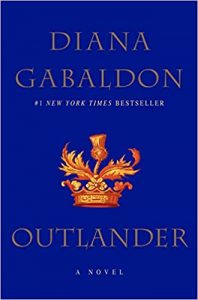 Quiet: The Power of Introverts in a World That Can't Stop Talking, Susan Cain 
Quiet came to me about the same time I was writing about my life as an introvert. I was drawn to it like I am drawn to the restroom at a business party full of people I don't know and don't care to. A superbly-researched book, it explores the science behind what causes us to be extroverted or introverted or varying degrees of both. She argues that introverts have been historically undervalued, particularly in this country, and recounts stories of introverts who have learned to tap into their own unique power. What drains you? What energizes you? Practical advice for parents, teachers, and those who would like to deepen self-knowledge and friendships. (Non-fiction)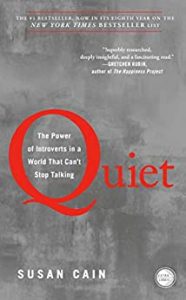 Before We Were Yours, Lisa Wingate 
The young lives portrayed in this story were so different from my own, yet its background is Memphis, Tennessee, where I lived, so I feel the heartbreak of this story a little more than most. The book is based on the true-life scandal of children who were kidnapped from poor families who lived along the Mississippi River in the nineteen-forties and sold to wealthy families, by Tennessee Children's Home Society, and a woman named Georgia Tann. The young protagonist, Rill, and her siblings were wise beyond their years, yet powerless over their kidnappers, as were their poor parents. These were innocent kids whose lives were literally taken or changed so drastically, so tragically. Wingate is a great storyteller, I've read several of her books. She writes the pain of gut-wrenching decisions and the heartbreak of losing family like one who has lived it. (Historical fiction)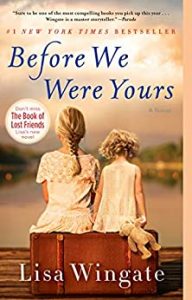 The Book Thief, Marcus Zusak
Another book about WWII, this story is based in Germany in a village outside of Munich. I suspect many of you saw the movie by the same name years ago as I did. I loved the movie, but it was a tamed version of the original book. Mr. Zusak does not spare us the horrors of Nazi-occupied Germany, and the narrator is masterfully written as the reaper of souls. The story unfolds through the eyes of the children navigating life as Hitler reeks devastation upon Europe. Although both the story and the narrator are grim forces, there is an underlying tenderness, poetic verbiage, and humor that make it endearing. I liked the protagonist, Liesel Meminger, straightaway as she too is a lover of words, of books. Liesel's story will hurt you, it should. It will also remind you of your own resilient spirit and of the beauty in sadness and the wonder of humanity at its best and worst. Perfect, if colorful language, for teens and older.(Historical fiction)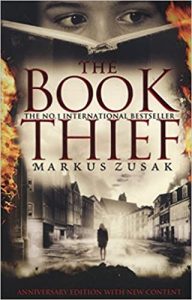 Harry Potter series, JK Rowling 
Rowling took events from her own life to conjure these superbly told tales. As I traveled across four states during my career in sales, I listened to every book. More often than not, when I arrived at my destination, I did not want to get out of the car. Why you ask, were so many adults drawn to these children's books? Because the minute the story begins, Rowling magically apparates you back in time. Poof! You are eight-years-old, chubby, with long hair in ringlets, wide-eyed, transfixed on the event at hand, and eager to mount your broom!  I heard a conservative evangelical preacher on the radio one day denounce the Harry Potter books as "a cult-like path to all things demonic," to which I say "bull shit!" If he had read even ONE of the books, he'd have known that Harry Potter makes conscious benevolent choices, almost always. And, if you have not read or listened to these books, WHAT IN THE NAME OF PROFESSOR ALBUS DUMBLEDORE ARE YOU WAITING FOR???