"Sometimes you have to say it like you're not coming back,
and most likely won't be invited."
Pat Meeks
One of the twin beds was soft, the other was sheetrock firm; I bounced as I sat on it. The soft bed had a nice mushy pillow, like the one at home. It would do.
It was unusually chilly for July; a welcome change in Oklahoma, where temperatures soar into triple digits. I sat down, covered my legs with my hoodie, and adjusted the lamp next to my soft bed and leaned back against the mushy pillow.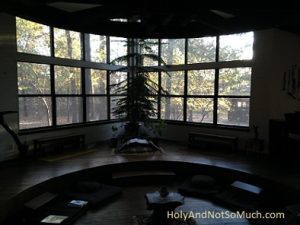 Surveying my little nest, I thought about what brought me back to the Forest of Peace, this spiritual sanctuary. An enormous sigh of relief started at the tip of my toes and rattled all the way up my spine, pouring out of my body spontaneously as a knowing grin found its way to my face.
Here in this sacred place lush with vegetation, rocky hiking trails, blue sky, and a few other quiet souls, I knew I could begin to heal, and remember who I was. It was the eighteenth month of a journey through loss, grief, and gut-wrenching anxiety; I was finally feeling alive again.