"If you pick up a starving dog and make him prosperous he will not bite you. This is the principal difference between dog and man." –Mark Twain
Didn't get out much did you, Mr. Twain? Recently I risked life and limb rescuing the tiniest Dachshund from traffic during rush hour, no small feat. After, the little ingrate thanked me by biting me on the leg harder than I thought possible, despite his owner's protests that "He never acts like that." Critters can be persnickety.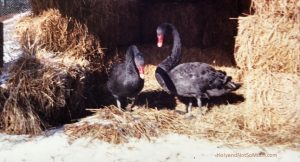 Caesar and Cleopatra
Birds had it out for me from the get-go. Mom had two black swans, Caesar and Cleopatra. Caesar had no use for me, and with a wingspan of six feet, he was intimidating. He charged me routinely, enormous wings spread, serrated beak wide open, lunging for my bottom as I hightailed it toward the fence. The only human Caesar showed a modicum of respect for was my little niece Katy, who sort of scared us all back then.
We lived in the country with dogs, cats, cattle, horses, catfish, turtles, swans, ducks, and for a time, an alligator and one tiny fawn. Our place was also residence to coyotes, skunks, feral cats, Blue Herron, various reptiles, rabbits, squirrels, possums, and the occasional goose. I adore animals of most species, and we had some doozies.