Please welcome a new Guest Contributor. . .
He couldn't have weighed much more than his new raincoat.  It was so new, in fact, it wouldn't let his arms hang the way that they should.  They hung out at his sides at an odd angle, and he could no more scratch his nose than he could turn his head strapped firmly in the hood.  He stood stiff beside the road, and he watched me coming for a long way.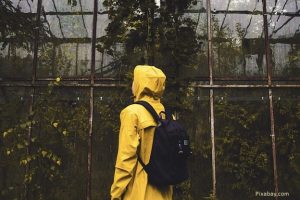 As I passed by him, he looked at me in the strangest way.  His lower lip was curled under his front teeth in fear.  In that passing moment, I wanted to stop and comfort him, but it was called off by the rest of his expression.  When I found him again in my rearview mirror, I saw that it wasn't me that he had been looking at, at all, but that big yellow school bus that was behind me.  "Oh, that's right," I thought, the first day of school.  His eyes were fixed on the bus in such a determined way that I knew he didn't need any counsel.  Brave as any soldier, he was going to get on that bus for the very first time.