In the spring while the cherry blossoms were showing off, I went to Alexandria Virginia to visit Pat, my dear friend, and spiritual director. We chat Thursday nights unless one of us is too pooped. Embarrassingly, it is usually me.
If you spoke with Pat on the phone, you would think you were speaking to a very spunky fifty-year-old, engaged, clever, opinionated, intelligent, and passionate. Pat drove me to catch the Metro so I could visit D.C, takes two flights of stairs routinely, and insisted on cooking for me each night. She is ninety-three and treasured.
Something we are both passionate about is voting. It is a privilege that was won, literally by the blood, sweat, and tears of other women. These are my heroines, not movie stars, politicians, beauty queens, TV personalities, not even great singers. Pat and I never take these women for granted. For years our Grandmothers, aunts, and her mother could not vote. Can you really imagine it?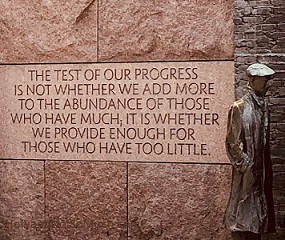 Franklin Delano Roosevelt Memorial, April 2018
As I stood in front of the White House on Pennsylvania Avenue, I remembered a photo of the suffragists, the National Women's Party in 1917, standing in the same spot holding picket signs. About two hundred women were arrested during those days, half of them sent to prison. Alice Paul, their leader, and others who went on hunger strikes in protest were force-fed. Those brave, determined, women fought and suffered, so I don't have to.