"There are only two ways to live your life. One is as though nothing is a miracle. The other is as though everything is a miracle." — Albert Einstein
The campus chimes begin to toll as I step out onto the labyrinth at University of Central Oklahoma, one, two, three, four, five o'clock. A lovely, simple melody follows, and I continue on the red winding path. The music ends, and the chimes from a nearby church echo the same tune back, then play a hymn. It is Good Friday and the campus is deserted; I love the quiet and the peaceful setting. Perfect for my walking meditation today. I am in the first hour of a four-hour silent retreat and prayer vigil.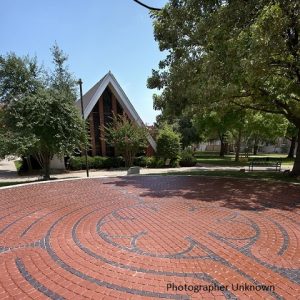 As I walk I think back over the past six months; I have been part of a group engaged in the spiritual exercises of St Ignatius. This daily retreat focuses on the entire life of Jesus and places the participant emotionally into scenes of his life with prayer, meditation, contemplation, and journaling. Total immersion. I first participated in the exercises sixteen years ago, and as my first experience, this one has been intimate, imbued with spiritual integrity, tolerance, and revelation.