"Imagination will often carry us to worlds that never were, but without it we go nowhere."          ― Carl Sagan
An amateur Spanish archaeologist, Marcelino de Sautuola, and his eight-year-old daughter Maria were exploring a cave in Altimira Spain in 1879 when Maria looked up and found striking paintings of bison on the ceiling.
Sautoula had seen similar displays of Paleolithic painting in Paris at an exposition and assumed their Altimira discovery might also date from the Stone Age. He and an archaeologist from the University of Madrid published these findings to quite a stir in the scientific community.
They presented the paper at an International Scientific Congress and were ridiculed. He was accused of forgery because he could not account for why there were no soot marks on the walls and ceilings of the cave. His accusers said Sautuola had the images painted by a modern artist.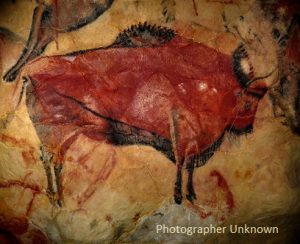 The scientific community took issue with de Sautuola's findings; so did the church. The theory of evolution was new in those days and his theory of a very talented Paleolithic painter who lived 15,000 years ago did not sit well with them, so de Sautuola was discredited even further.