"The long and winding road that leads to your door
Will never disappear
I've seen that road before, it always leads me here
Leads me to your door"
 John Lennon, Paul McCartney
The God of full moon watched over me all evening as I drove southeast through the rolling hills of Oklahoma. I welcomed her presence, kept looking up and grinning at her, enjoying her luminous beauty.
It was that long trip home to see Dad.  At eighty-seven he worried about me traveling. So I hated that my work, rather my obsession with work, caused me to get a late start and drive in the dark.
Preferring the comfort of home at night, I'd rather just hang out with my pet family and read.  And, I can't see squat in the dark anymore, so I don my distance glasses when I drive at night, and the heart thumps a tad faster.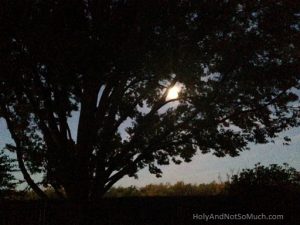 Seventy-five miles from Dad's thin fingers of white fog began to float by me. I thought it would simply ebb and flow from low-lying areas to higher ground, but this fog lingered-much like the new ache in my spirit.
As I meandered through the hills and the threads of fog, I wondered how many times I had made this long old trip. It began when I first left home for college at seventeen; the years blew by so quickly.  I am sixty-two now, so many trips. As I drove, I thought of Robert Frost's words, "miles to go before I sleep." They seemed prophetic to me as I felt my life spiral down.
The further south I drove the thicker the fog became; I slowed down to sixty miles per hour. That last stretch of road is just a two-lane state highway for the most part;  it bends and twists along, lined with pine woods on either side.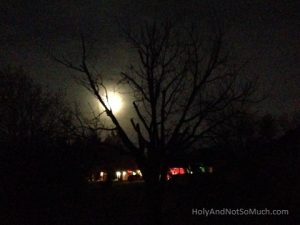 My feelings about this old trip also meandered back and forth; I hated it, and I loved it.  When I was young and full of myself, I drove waaay over the speed limit to get it over with. (A grand collection of speeding tickets confirm this.) Back in the day, I could finesse my way out of one from time to time.
The self-absorption of my youth made me resent the trip and having to make it. I would hurry back on Sunday only to find that I had left behind those who would always stand with me. With passing years I was more likely to drive back with tears in my eyes, wishing I could stay longer.
I hated the physical distance the trip placed between my parents and me over the years.  And, the panic I always felt when one of them was sad or in the hospital, knowing it would take me at least four hours to get there. Every celebration, every holiday, every funeral, and every conversation that needed to take place had to wait, for that long trip home.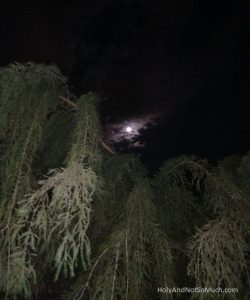 But now I loved the solace of the trip, time to collect my thoughts, to record them, and to sing-loudly, and very badly.  It also opened the door to silence so I could hear God. The long trip home was illuminating more often than not.
On the last leg of this trip, I was so weary; the fog had become thicker and thicker.  This was exactly where I hit the deer a few years ago. She came out of the woods on the right side; I saw her stop, stand there, and look right up at me.  I uttered a telepathic prayer, hoping she and God would both get the message for her to stay put.  Why she jumped right in front of me, I'll never know.
Remembering that dreadful day I slowed down to forty miles per hour.  By now visibility was greatly reduced and I switched to fog lights. I could only really see about twenty yards ahead.
I stopped and called Dad, whom I knew was looking at the clock and wondering.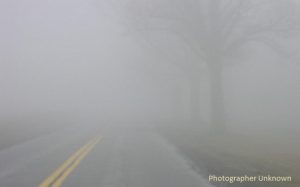 At twenty-five miles out I was white knuckled and driving through dense cotton candy. The woods I could typically see to the left and right had simply vanished; I could only see about ten yards ahead. Even the familiar country homes that I knew lined both sides of the road were invisible. I was exhausted and driving on faith.
So many times life requires driving slowly through the mystery, living in the unknowing. Did the interviewer think I was right for the job? Will the sale of the house go through? Will the next commission check be enough? Can our marriage survive this calamity? Will my body remain healthy enough to enter the 10k?
As the God of full moon watched over me that long night, I thought back over my forty-four-year relationship with the trip,  the weariness, and mysteries it brought. And, I knew I'd miss this long old fatiguing trip home when I no longer had a hug awaiting me at the end of the road.
"We had longer ways to go. But no matter, the road is life." – Jack Kerouac