Now, they've got catfish on the table
They've got gospel in the air
And Reverend Green, be glad to see you
  When you haven't' got a prayer
But boy you got a prayer in Memphis
   "Walking in Memphis", Mark Cohn
We turned up the radio to be certain we heard the news correctly. It was 1977 and we were driving back from a beach vacation passing through Memphis. Elvis had died. It was so fitting that we were in Memphis when we got the news; I had just moved to Oklahoma from Memphis and had great affection for the city.
Only Memphis could have produced Elvis with that combination of southern charm, overt but easy sexuality, down home familiarity, polite respect and deep generosity. You have to have lived there to know it.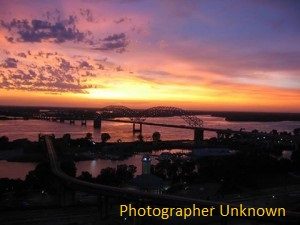 This former small town girl loved her four years in Memphis. I remember my first week there, making my brand new husband drive me around in the rain so I could see the blurry flicker of the city lights through the window of the Maverick. My first steeped exposure to a city of any size; I was entranced.
God does place us where we need to be. What a gift, Memphis in the 70's!
We lived in Midtown right in the heart of the city, not far from downtown where I worked. Our apartment was on the third floor right over a city bus stop and two streets over was Methodist hospital. At first I woke so many nights to the sound of the bus stopping or the ambulances arriving at the emergency room. After a few weeks I never noticed it again. Each unit was huge and included a study; we paid $80.00 per month back then.  The Dunlap Apartments were built in 1923; there was actually still a little door with a latch in the kitchen where the ice man delivered a huge block of ice for the "Ice Box" back in the day.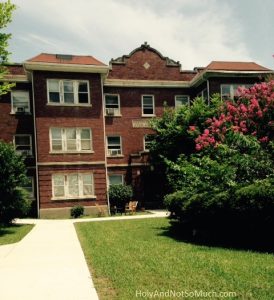 I was attending Memphis State University (now called University of Memphis) and he was at Southern College of Optometry, which was right across the street from our apartment. I worked at Goldsmiths department store, the main store downtown. What a wonder it was.
The store was on main street and occupied the space where the Gayoso, one of the old grand renowned hotels built in 1842 once stood. Goldsmith's was enormous, with five floors and a full time elevator operator. The downtown store  included two restaurants, an employee's cafeteria, a bakery, drug store, hat shop, appliances, furniture and art, clothing, salon, book store, houseware, furs, candy shop, drapery, luggage, personnel department, training department and administrative offices.  There was also a discount store in the basement, a fully operational display department and the "Enchanted Forrest". Kids got out of school during the holidays to ride the bus downtown to see the Enchanted Forrest.
Each winter a section of the basement was transformed into a winter wonderland for kids. The white, snowy, magical décor with soft blue lights  transported kids to Santa's world of wonder. Animatronic-like skaters and animals would spin delightfully, Santa's elves would greet you and if you were good Santa would listen to your wishes. You could even make reservations for your child to attend "Breakfast with Santa", an annual event held in the better of the two restaurants. Goldsmith's was the standard department stores are still measured by today.
The things I loved then about Memphis I still do. I was there two weeks ago and felt the same quickening of my spirit I did when I lived there. It's the city, the authentic southern values, the music, the food, the Mississippi river, the old, established neighborhoods with craftsman style homes, and that unique Memphis drawl. Memphis is an old city, founded in 1819 by John Overton, James Winchester and Andrew Jackson. Almost two centuries of both change and reverence for history have grown Memphis into a very unique city.
I stayed with my dear friend Deb while I was there, the woman who kept me sane in those early years of cultivating a career and new marriage. Just one of the things that makes Memphis stand out is that within walking distance from Deb's home you can shop for antiques in cool old artsy shops, hear very good original music, and dine in any number and type of restaurant. You do see the bland cookie cutter chain business around town, but not as many as the unique independents. And, Deb's neighborhood is only one of many like this.
Memories of my years in Memphis include the streakers, Overton Square and nights out on the town, the Peabody Hotel and the daily duck walk, Beale Street and timeless blues, Rick Dees on the radio, the unmatched Rendezvous barbeque experience, Overton Park with its enormous old oak trees and free concerts, and Elvis at Graceland.
A walk down a grubby alley downtown still lands you in a huge basement haven for barbeque lovers, called the Rendezvous, with its open kitchen drawing you into the experience. The staff, many of whom have worked there their entire lives, greet you donning white shirts and black bow ties with white linen towels draped over their arms. There is truly nothing that matches the flavors, the ambiance, or the unique experience.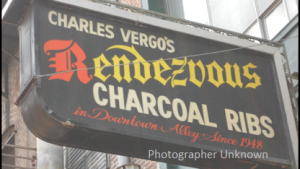 The first place we lived was just around the corner from Sun Recording Studio on Union avenue where the greats including Johnny Cash, Elvis Presley, Carl Perkins, Roy Orbison, Charlie Feathers, Bonnie Raitt, Charlie Rich, and Jerry Lee Lewis, recorded their iconic hits.
I never met Elvis but do have memories of him. Rumors flew one day about the Cadillac dealership one block up. Elvis had been in shopping, bought himself a new Cadillac and also bought one for a lady who was shopping.
He called our Goldsmith's Southland store one night before Christmas and told them not to close at 9 p.m. that he was coming to shop. Goldsmith's accommodated him. He and his entourage spent upwards of $10,000 that night back in 1976.  I know I was young and everything seemed larger than life to me at the time. But there is still something incredibly provocative about Memphis and its rhythms.
If you are old enough, think back on that time. These were the days of Marvin Gaye and Tammy Terrell, John Denver, the Beatles, Jimi Hendrix, Glen Campbell, and Minnie Riperton. They were days of protests, hippies, MASH, Watergate, returning Vietnam vets, Patty Hearst, pot, sit-ins, love-ins, emerging women's lib and Peter Max.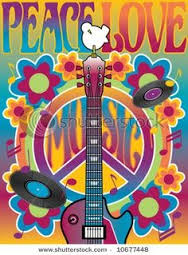 And the threads back then, nowhere in the country did you see peacocks struttin their stuff like in Memphis. Men sported stacked heels, hip-hugging, plaid bell bottoms and flare sleeve shirts. Women wore headbands and miniskirts. I still have a pair of very wide bell bottom jeans that Mom embroidered all the way up both legs for me. Can't get my derriere in them, but still have them. Curly perms, sideburns and 'fros were the rage, and sedans in Memphis were pimped out like crazy, driving up and down Main Street.
Memphis was about as much fun as a part cowgirl, part hippie, part serious college student, part closet writer could have. It also helped me say yes to independence, confidence, tolerance, and love for people who looked and spoke differently than I did. It was a time of discovery, creativity, questioning and revelation. It was-far out man!