"The rain to the wind said,
You push and I'll pelt.'
They so smote the garden bed
That the flowers actually knelt,
And lay lodged–though not dead.
I know how the flowers felt."
― Robert Frost
In the late afternoon I walk out in the garden and step under the Weeping Balsam trees; feathery very low hanging branches brush my skin and I marvel the trees do not fall forward. True to form, the Morning Glories have shriveled back into themselves and the Hydrangeas look like they could use a long drink.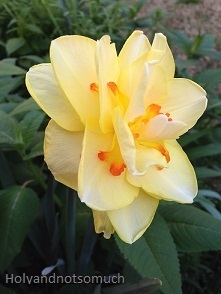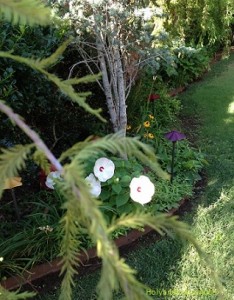 The little red, citrine, melon, and blue, glass garden lights are glowing.  They bring a smile to my face, primarily because they are so pretty they make me feel like I have entered Fantasia, but also because I have failed twice at setting the timer for them to come on at night as they should.
I was well into my thirties before I ever planted a single plant. I used to kvetch to my Mom that she always wanted me to "grub in the dirt" with her. Gardening was just not my thing back then.  I was my thing back then.
A look back at the self-absorption years makes me wince mightily.  My life was like a pinball in an arcade game back then just bouncing from one post to the other.  What to eat, where to go, what to do, what to wear, whom to see, there was very little depth there. It is a wonder I thrived.
My gratefulness barometer was also broken back then.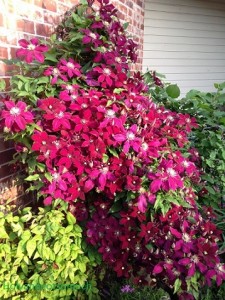 Twice in little more than three years death and its companion, grief, have paid a visit, along with divorce, personal loss, financial stress, health issues, and something resembling post traumatic stress. Yet with each blow there was relief, if only at the twelfth hour. Over and over I felt at the end of my rope only to find I wasn't. I am alright; I am grateful, and know I can take little credit for it.
I marvel at God's energy flowing through my life, then and now. When I was down to my last financial resources the money came each time.  It just came. When I needed resolution to issues related to the sale of two homes within one year, solutions presented themselves. Buyers came forth.
A health issue that persisted for over a year and a half specialists said required surgery was relieved by following a simple suggestion in an article I read.  An unpleasant neighbor I dreaded seeing suddenly just moved away.
The profound sadness that accompanies grief indeed found me, but is becoming more bearable through intimacy with God, talking to my loved ones who have passed, reading, writing, walking, and through gratefulness.
Today as I walk in my garden my gut reminds me that I am kin to this earth.  This little sanctuary, this weedy family, is that thin slice of this life that suspends reality for a while and allows me to rest in the Divine.
I feel so grateful to the woman who owned this home prior to me for her masterful gardening; her talent and time sacrifice so evident in this gorgeous gift.  For tulips and daffodils, Clematis, Roses, Daisy's, and the myriad of lilies in the spring to the late summer calla lilies, morning glories, dianthus and crepe myrtles in August, I thank her. When your day begins with heartache, what a comfort these colorful siblings have been.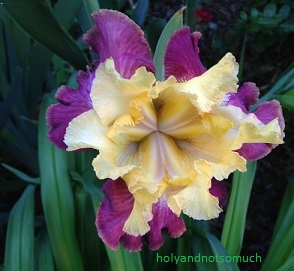 Even the two trees in the backyard delight me that aggravated me so last fall when I first moved in, their tiny leaves tracking in the house each time a pet walked in and covering the yard for me to rake. Now, as I sit on my little meditation bench under them I wonder at the shade they provide sooo perfectly on this west side of the house allowing me to sit out even in the late August afternoon and read. I am even grateful for the fence that surrounds me perfectly so that I get a breeze but not the afternoon central Oklahoma gale.
Yes, I am related to this garden Fantasia, but like the morning glories, I came from someplace else. I cannot remember it, perhaps they do.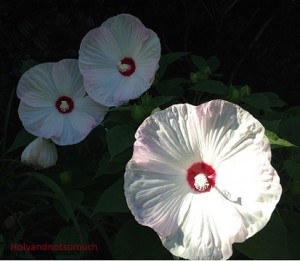 "Everything that slows us down and forces patience, everything that sets us back into the slow circles of nature, is a help. Gardening is an instrument of grace." — May Sarton