Grandmother God rose last night in the face of the full moon.
 I stood out in the still summer heat watching her.
How pale you look I said.
How hot you look she said.
We shared a smile.
Knowing God is seeing God where you find her.
–Stephen Charleston, Cloud Walking
Have you ever noticed that the everyday morphs into the rare and remarkable on closer inspection?
Taking photos is something I'm obsessed with, not great at it, but drawn to like a menopausal woman to chocolate. I want to look at the same places, same things, same people, and see something different. Something that will wake me up, stir my spirit into knowing I am alive, not just walking through a bland dream.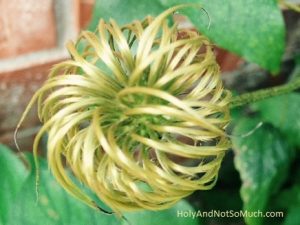 From my backyard, what's left after the Clematis blossom fades.
It's been suggested that I take a photography course, or at least buy a good digital camera with all the glickins. That would take the fun out of it for me, the spontaneity in seeing what I can produce with my little iPhone five. The blog most likely deserves better, but I am resisting as long as I can.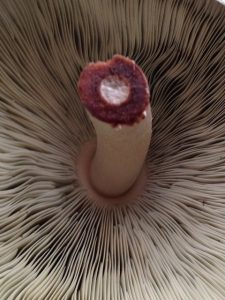 The bottom side of a mushroom, from my yard.
Revealing the spectacular in the ordinary does not disappoint. It is a meditative practice for me. What we seek cannot be found in our iPhones, television, Facebook, dinner out, or any other distraction "out there." It is always here, inside us. If you slow down and resist being sucked into today's negative drama you find an entire other world to concern yourself with, vastly more interesting and soul nourishing.