For those who lost their lives,
those who suffered unspeakable loss,
and those who were forever changed.
In this sacred garden, I walk among the pines, saplings not long ago. I look toward the Journal Record building and realize it was long ago, twenty-one years ago. For residents of central Oklahoma however, the memory is still fresh. Those who stood exactly where I am standing on April 19th at 9:01 that morning back in 1995 cannot walk among the pines.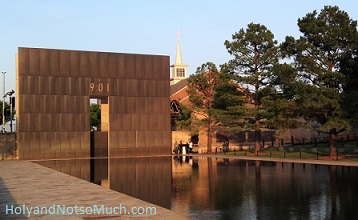 I had been on vacation and was on my way back home to Oklahoma City. It was a romantic getaway to Key West Florida at a picturesque bed and breakfast, with peaceful beaches, fresh seafood, fancy concoctions of dark rum, pineapple, and coconut, and badly needed relaxation. Read the rest of this entry →