I looked up from my hymnal to see bright, brown, innocent eyes peering back at me from two pews up. Fresh-faced and beaming, most likely of Chinese heritage, she looked about fourteen. My heart fluttered and I gasped.
I didn't recall ever seeing her at St Augustine's and have not seen her since. Looking back at the day, I am not sure I physically saw her.
The night before I had watched a movie called "The Flowers of War." I was drawn to it because my favorite actor, Christian Bale, was in it. I got a great deal more than I bargained for; the story had a profound effect on me. Six months later I feel compelled to tell the story.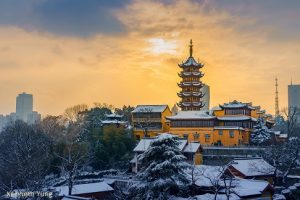 The movie was about the Chinese city of Nanking, the setting of one of the most horrific war crimes in history. I had never heard this story; it awakened me and revealed a depth of sacrifice I am not sure I possess.