"The rain to the wind said,
You push and I'll pelt.'
They so smote the garden bed
That the flowers actually knelt,
And lay lodged–though not dead.
I know how the flowers felt."
― Robert Frost
In the late afternoon I walk out in the garden and step under the Weeping Balsam trees; feathery very low hanging branches brush my skin and I marvel the trees do not fall forward. True to form, the Morning Glories have shriveled back into themselves and the Hydrangeas look like they could use a long drink.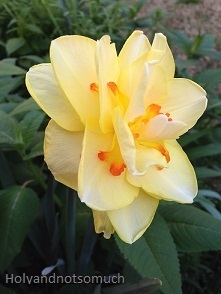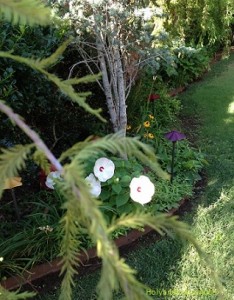 The little red, citrine, melon, and blue, glass garden lights are glowing.  They bring a smile to my face, primarily because they are so pretty they make me feel like I have entered Fantasia, but also because I have failed twice at setting the timer for them to come on at night as they should.
I was well into my thirties before I ever planted a single plant. I used to kvetch to my Mom that she always wanted me to "grub in the dirt" with her. Gardening was just not my thing back then.  I was my thing back then.