"All good books are alike in that they are truer than if they had really happened and after you are finished reading one you will feel that all that happened to you and afterwards it all belongs to you: the good and the bad, the ecstasy, the remorse and sorrow, the people and the places and how the weather was. If you can get so that you can give that to people, then you are a writer." ― Ernest Hemingway
I have books all over my house, on my shelves, on my bedside table, on my couch, and on the floor. I think there are books in my underwear drawer. I l-o-v-e to read. Reading transports us to worlds we may never get to see, to ideas that would never come to us otherwise, to characters with depth of purpose we may never experience. Time and perception are altered, and we are given the opportunity to experience our wildest dreams.  Could anything be more delicious on a freezing afternoon than a good book, time to read, and a cup of hot chocolate?
On the road incessantly, I often listen to books that I download from the library. That four-hour drive across the state seems to float by in about an hour. Wonderful wizardry!! Sometimes I read on my iPad, laptop, or iPhone, but I prefer the real deal, an actual–book. You cannot really "curl up" with a Kindle.  Besides, my books are highlighted and underlined, with notes in the margins, and many, many, dog-eared pages.
"Must Reads" suggestions are rotated on the home page of the blog, (Yes, I have read each of them.) but today let's focus on seven books that touched me, taught me, and opened a door I was better for having walked through.
City of Tranquil Light, Bo Caldwell, 2010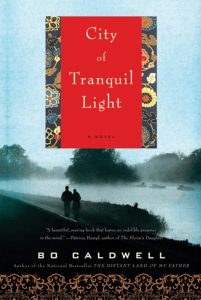 https://www.amazon.com/City-Tranquil-Light-Novel/dp/B0044X158A
Caldwell's story broke me open. It is historical fiction, but inspired by the lives of her grandparents, American missionaries with family in Oklahoma, who served in China under horrific circumstances. As a Christian, it revealed to me what purposeful, intentional trust in God looks like. It also reminded me of the sacrifices made by those who choose to share their spiritual gifts, and do so by listening rather than preaching and by healing rather than judging. The story also schooled me regarding life in mainland China in the early twentieth century during civil war. Caldwell delivers scene after scene with such clarity and devotion that I was brought to tears over and over again.